Bay Horse
Bay is a standard coat color in horses distinguished by a reddish-brown body and black point coloration on their mane, ear edges, tail, and lower legs. A horse is classified as bay if it has a black base color and it carries the color-modifying Agouti gene. Some bay horses have black points covered with distinctive white areas characterized by pinkish skin.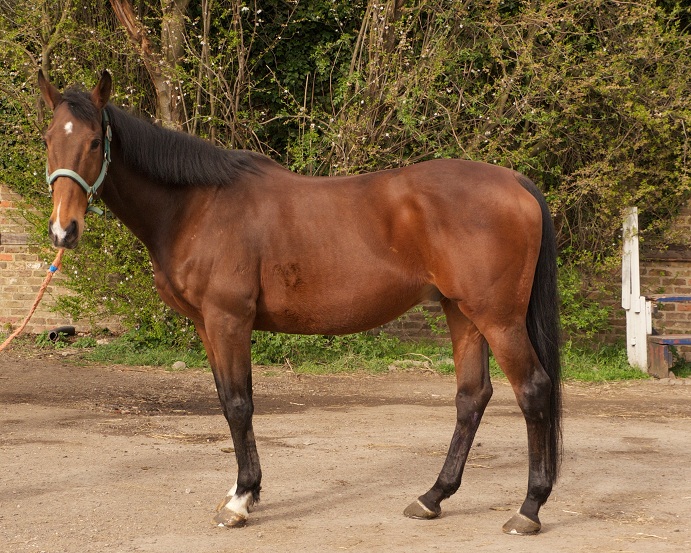 Bay horses typically vary in color from light copper red to rich blood bay, to dark red called black-bay, mahogany bay, dark bay, or brown. White patterns also occur on bay coat, producing spotted horses with appaloosa-white, paint-white, and roan-white patterns.
Established in 2001, the Chesapeake Bay Horse Show Association organizes horse shows in places around Maryland and Delaware.
Horse Breeds That Can Have Bay Coat Color
Cleveland Bay Horse
Coffin Bay Pony
Standardbred Horse
Kabarda Horse
Nonius Horse
Vlaamperd Horse
Hanoverian Horse
Lipizzan Horse
Dales Pony
Dongola Horse
Appendix Quarter Horse
South German Coldblood
Comtois Horse
Retuerta Horse
Karabakh Horse
Zanskari Horse
Poney du Logone
Gotland Pony
Canadian Sport Horse
Exmoor Pony
Tibetan Pony
Guizhou Pony
Tori Horse
Manipuri Pony
Samolaco Horse
Danish Warmblood Horse
Danish Sport Pony
Mongolian Horse
Norman Cob Horse
Ukrainian Riding Horse
Namib Desert Horse
Carolina Marsh Tacky Horse
Dutch Warmblood Horse
Fouta Horse
Knabstrupper Horse
Holsteiner Horse
South German Coldblood
Dartmoor Pony
Arabian Horse
Argentine Anglo
Yili Horse
Breton Horse
Dartmoor Pony
Spanish-Norman Horse
Spanish Mustang Horse
Sarcidano Horse
Black Forest Horse
Bashkir Horse
Australian Pony
Gayoe Pony
French Saddle Pony
Kerry Bog Pony
French Trotter Horse
Faroe Pony
Russian Trotter
Swiss Warmblood Horse
Welara Pony
Akhal Teke Horse
Blazer Horse
Shire Horse
Percheron draft Horse
Persano Horse
Pryor Mountain Mustang Horse
Fell Pony
Oldenburg Horse
Dutch Draft Horse
Bose Pony
Andalusian Horse
Australian Stock Horse
Bhirum Pony
Ardennes Horse
Nokota Horse
Romanian Sporthorse
Newfoundland Pony
Canadian Horse
Criollo Horse
Budyonny Horse
Landais Pony
Indian Half-Bred
Lokai Horse
Hucul Pony
German Riding Pony
Racking Horse
Peruvian Paso
Baguales Horse
Falabella Horse
Russian Don Horse
Bay Horse Pictures